Rental rates include delivery, set-up, and break down in the greater Manchester, NH area and Massachusetts North Shore. Extra fees may apply for extended travel distances, on -site technicians, and overnight stays.
We can build any size floor based on 4ft x 4ft panel dimensions including rectangles.
Contact us for a specific quote for your venue.
Having a house party? Ask about our specials on small floors.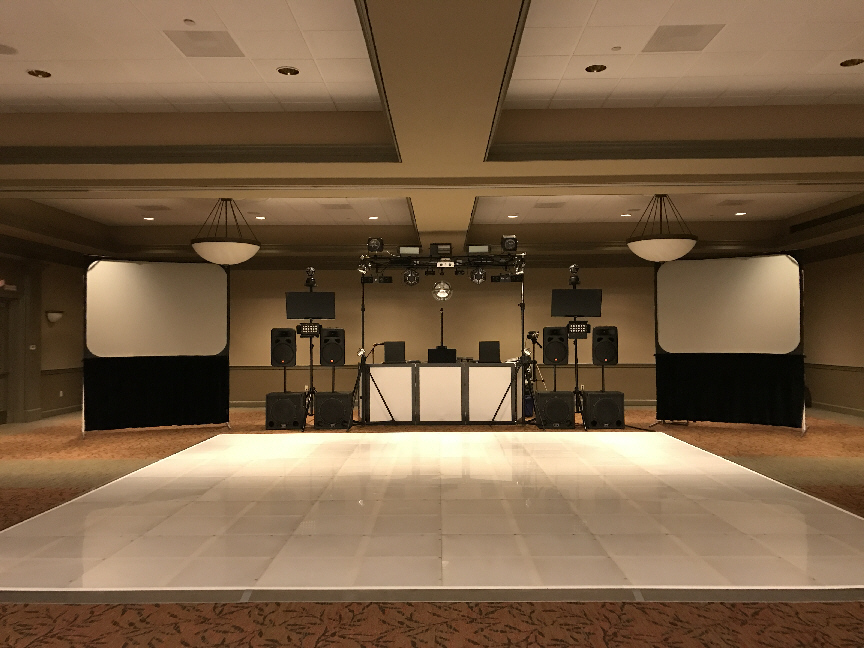 We're more than just a lighted dance floor!
We also rent premium sound & lighting.
Great systems can be added to any floor starting at only $495
Our extensive inventory can transform any party space.

For those who want to do-it-yourself much of our equipment
can be rented in Gilford, NH (Excluding lighted floors)
Visit PartyLightRentals.com
The Music Masters
Ultimate Disco Party
$4995*
Our beautiful lighted floor is often the centerpiece for authentic 1970's disco events . With our all inclusive Ultimate Disco Party
we do it all. You get our 16x16 lighted floor, professional sound,
LED light show with 10ft trussing system, large disco mirror ball,
two video screens, and our VJ mixing videos of all the classic hits.
You get to experience the top artists in person
on video like you were actually there in the 70's!
*Rates typical for 4 hour event. Many shows require extended times for delivery and/or set up and removal. Contact us for specific requirements.
If you're thinking about an expensive cover band for your next event consider one of our video dance parties and our incredible floor. Our shows are original, fun, sound better, look better, and are less than half the price of a decent band!
The Music Masters
Authentic 1970's "Vinyl Throwback"
Disco Experience with Turntables!
$6995*
If you've ever wondered what it was like in a 1970's disco we have the answer. It was fun! The centerpiece of this attraction is our classic disco DJ spinning the records exactly like it was done during the disco nightclub years. Combine our incredible sound, an old school light show with mirror ball, and our 20x20 lighted floor and you have the closest authentic 1970's disco experience you can get.