603-644-7660 info@LightedDanceFloor.net

LED Floor Sizes & Prices Photos Videos LED Light Shows Contact Form

Rentals ~ Sales ~ Service
LED Lighted Dance Floor Rentals from $895*
*12ft x 12ft DIY Special ~ Most Venues
(Valet Service Not Included)
Get a personalized rental quote for your event.
Ask about current specials and last minute deals.

Nightclub Specials
NEW 12ft x 12ft $14,995 Installed
NEW 20ft x 20ft $29,995 Installed
Options available for mobile or permanent installations.
Custom built NEW transportation trailers available from $6,995
Ask for our current dance floor parts & accessories price list.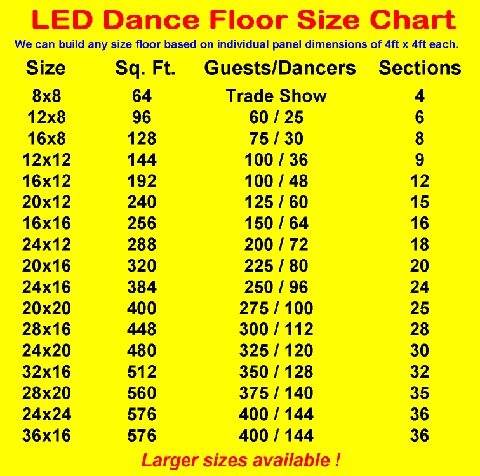 What is valet service? Valet service is the all inclusive complete lighted dance floor experience. Delivery, set up, break down, and a technician are included. The technician coordinates the look and functions of the floor live. Our advanced control system is capable of displaying thousands of colors combinations and patterns. The action and colors are programmed specific to the events requirements, formalities, and timeline.
What is DIY service? With DIY rentals we deliver it and you are responsible for everything else. You provide the crew to unload, assemble, operate, and then disassemble and pickup. Our easy-to-use basic pushbutton controller will allow you to choose your favorite colors for a static effect, or dance and change colors to the beat of the music. For those that can meet our DIY requirements this is a budget friendly alternative. This is a great option for home parties, small functions, and casual events when choreographed formalities and timelines are not that important.
Have a date? Get a personal quote. We will do everything possible to always make sure you get the best deal.
Attention agents, venues, party planners, function coordinators, and all event professionals! If you're not offering our floor to your clients you're missing out on one of the coolest and hottest party extras in the special event industry today. Ask for a free promo kit.
For a complete entertainment experience
check out the video below and visit
www.TheMusicMasters.com